Our Bespoke Service
At Bazaar Velvet, we are committed to working closely with our clients to help them find their ideal luxury rug; whether it involves making simple adjustments to an existing design, or creating a completely new design from scratch.Our talented design team use the latest specialist software to create your design with ease. Multiple variations can be formulated within a short space of time and realistic computer visuals created. We can verify colours using wool/silk colour poms (yarn samples) and show you qualities using our various design samples.
Our bespoke design service is free of charge, with prices being calculated on the same square meter basis as our stock rugs. Hand Knotted rugs have a lead time of 16-18 weeks and Hand Tufted rugs a lead time of 10-12 weeks.
Read our guide below to find out more about the bespoke process at Bazaar Velvet.

Bespoke Rug Guide - Bazaar Velvet
Step 1 - Find Your Inspiration:
Rugs can be created from any artwork or design idea you provide, but there are many different starting points you can take:
Look at your room- Fabrics/designs/colours/themes?
Look at the Bazaar Velvet Website- Use existing rugs for inspiration, or even adjust an existing design
Remember designs that have caught your attention- A textile print, decorative pattern, a piece of artwork…
Alternatively, just take a photograph of your room and we can do all the work for you
Remember to measure your room- any bespoke size can be made at no additional cost
Step 2 – Contact Us
Let us know in as much detail as possible what your requirements are, not just in terms of size and design, but also in timescale and budget.
Email Us- take the opportunity to send photos of your room and furnishings
Phone Us- discuss your project with us and we can answer all your questions
Visit our Showroom- bring with you any samples you have from the room (e.g. fabrics, wallpaper, flooring) view our quality and let us show you our design programme
Furthermore, we also offer a home consultation service to many of our local clients. Please ask us if you are interested in this.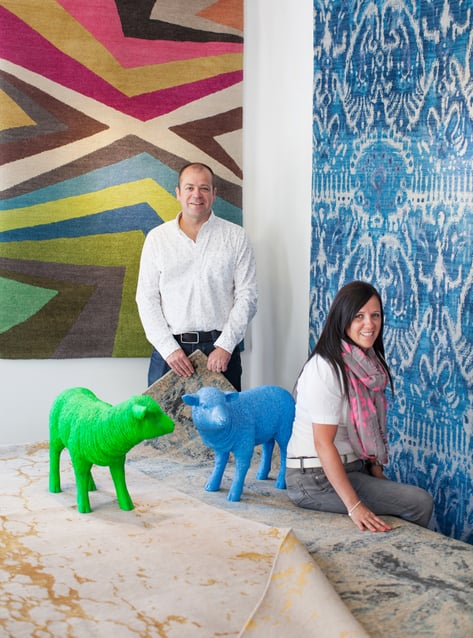 Step 3 – Let us work with you to create your perfect design
We use our 20 years of experience combined with our specialist rug design programme to provide:
Quick and easy design creation and alternative options
Realistic design visualisations showing the rugs full design and texture as well as in situ- using either a computer-generated room or a photo of your own
A colour system that co-ordinates with our 2000 wool colour poms
Showroom meetings allow us to show you samples of qualities and adjust designs in front of you, but we can also work remotely, emailing design visuals and posting colour samples.
We are committed to working towards a final design that fits your artistic vision as well as your budget and practical needs.
Step 4 – Confirm and have your rug made
Once you have approved both computer visuals and colour samples, we require a 50% deposit to begin the making process, with the remaining balance due 14 days before delivery.
Our rugs generally take 16-18 weeks to make, but express services are available at an additional cost.
Each of our rugs are made entirely by hand by dozens of skilled artisans using the ancient art form of hand knotting. This gives every rug a unique character and a level of robustness unsurpassed by any other making method.
This means your perfect bespoke rug can be used and enjoyed for many decades to come.
If you are interested in creating a bespoke rug with us, or have any questions, please do not hesitate to contact us.